Growth in Granola Fulfills Entrepreneurial Dream for Maple Nut Kitchen
---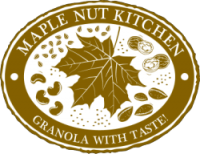 Four years ago, Vivian Cubilla-Lindblom knew little about running a business of her own, but decided, along with her husband, Guy, to follow her dream of developing a line of healthy food products.  
Today, Maple Nut Kitchen has outgrown its shared commercial kitchen space in Keene, NH, and Vivian has moved the business to new quarters in nearby Swanzey. When she purchased the small granola company from another entrepreneur, only a handful of client (stores stocking the product) came with the deal. Today, she's distributing her line of handmade granola mixes to more than 200 stores.  She hopes to add several more Whole Foods locations to the mix very soon. Managing 200-plus wholesale clients can be a challenge, she says, but she's going after even more growth in the days ahead.
When the business was just an idea, Vivian confesses, "I really didn't know where to start.  I just began looking for some local resources that could help." That's how she found Nancy DuBosque, regional director of the NH SBDC Keene office.  
"She has been just great.  She was wonderful in assisting me," Vivian says, admitting that even after a career in the finance industry, there was much she didn't know about running a business. "I was just unfulfilled in finance." 
Vivian, husband Guy, and Nancy first worked together on financial statements, cash flow statements, and all the supply sourcing that became necessary when Vivian decided to change the original business name, its logo, and the packaging, and to improve the flavor of the original product.  The recipe changes worked well, apparently, as the company has earned a "Best Granola in New Hampshire Award" from New Hampshire Magazine. 
Today, Maple Nut offers 13 variations on their products, the most popular of which is the Lavender Blueberry because "it's unique," Vivian says, "and it's paleo.  The other best-sellers are Northern Berry and Maple Nut, the original flavor."
Vivian says Nancy's help is a bit more hands-off today than it was in the beginning.  "But we still use her as a sounding board," Vivian said.  "She's there just to make sure we make the best decisions we can."
Maple Nut Kitchen, like so many New Hampshire businesses, is having trouble finding employees with the state's current low unemployment rate.  Husband Guy and Vivian's sister-in-law are full-time with the company, along with one other employee. They've just recently hired an "awesome" salesperson, and now really need one more full-time team member.  With their labor needs, Vivian sought Nancy's advice again on best ways to go looking for employees, and Vivian has been implementing Nancy's ideas, including calls out on Facebook and email.  
Vivian moved to the United States from Paraguay 19 years ago, to Kansas, where she fulfilled her youthful dream of attending an American college. There, she met fellow student Guy, who was from Florida, and when they both graduated, the couple moved together to his home state. Guy's work in bridge construction and project management led the couple to New Hampshire five years ago.
When Vivian took over Maple Nut Kitchen, she used a shared commercial kitchen in Keene that was set up to help local food-based businesses grow.  When that entity closed in 2016, Maple Nut was displaced and, for a time, had to produce their products in a commercial kitchen all the way in Derry, NH, more than an hour's drive from Keene, one-way.   
"Once a week we drove there to cook it all, then bring it all back to our home in Keene, where we packaged and shipped everything from our basement!" Vivian said. 
Clearly that arrangement wasn't sustainable, so the couple began to search for new quarters. Advisor Nancy DuBosque was involved in that process as well, connecting them to a realtor who could help and going along to view a few of the possibilities in order to help assess "the flow of things."
"She (Nancy) is so great and so patient," Vivian said.  "She takes the time to help with whatever is needed at the moment—marketing, hiring, finding us contacts. She's always going out of her way to help."
Maple Nut Kitchen now operates out of relatively spacious quarters just up the road from Keene, with a new small kitchen, a small warehouse, a packaging room and a small office.  
"We have self-funded this move," Vivian explains, "so, it is a scary investment for us.  We've planned this to serve our needs for three to four years out, then we'll likely have to move again, especially if we get more, larger grocery accounts."
But, with helpful advisors standing by, Vivian will continue working through her strategic plan and the vision she has for her business.