Welcome to NH SBDC's eCourse program!
eCourses are designed for prospective, new, and current entrepreneurs.
eCourses are approximately 15 minutes long and include a downloadable outline of the course and relevant links to resources (find these below the video).
A transcription of each video is available, as are closed captions.
eCourses are free and available 24/7. Please set up your account once, and then quickly register for individual eCourses thereafter.
Many of our eCourses were made possible through CARES Act funding. Thank you to a variety of sponsors for specific eCourses, who are recognized below.
---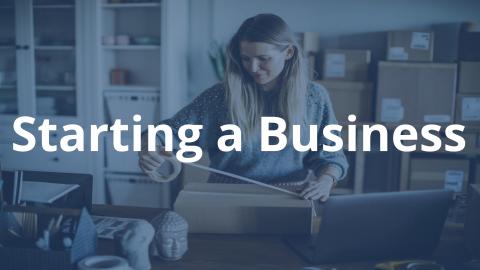 Starting a Business In New Hampshire - I have an idea!
You want to start a business! You have a great idea, but will it work? Do people want it? Will they pay for it? This eCourse can help you ask the right questions and so some basic research and budgeting to evaluate whether your idea has legs.
Starting a Business In New Hampshire - Planning and Research
Your idea seems like it can stand up. Now you need to do more planning and research to get your business started and follow state and federal requirements for choosing a name and form of organization, licenses your business may need, and hiring employees. Researching your target market, keeping records, setting up a business bank account, and many other necessary parts of starting a business are discussed.
Starting a Business In New Hampshire - Planning to hire
Are you planning to hire a team? This eCourse explores the good management choices and the steps required to be ready to hire your first employee.
(After you've taken this eCourse, and once you think it's time for you to hire, take our eCourse Human Resources:  The Employee Lifecycle for Small Businesses – Part 1.)
How to Create and Implement a Winning Social Media Strategy
Social media can be a powerful tool for businesses. How do you leverage social media to achieve direct contact with your customers and potential customers and build your brand? First, create a plan. We walk you through identifying big-picture goals, tools to use, your brand messaging and target market, and what to find out about what your competitors are doing on social media. Help on choosing which platforms to consider and how to create content for those platforms is followed by tips for a winning social strategy.
Three Steps to Crafting an Effective Small Business Website
You've decided it is time for your business to have a website, or maybe it's time to redo your website. Where do you start? What does your website need to do for your business? You know your website needs to draw in customers and provide them what they need when they get there. How do you make that happen? This eCourse offers three steps to getting your small business website started.
How to Write Website Content for Humans (and Robots, too!)
There are so many types of content on a website – landing page content, blogs, other articles, descriptions of products or services, videos, etc., etc. How do you talk about your products or services? What voice do you use to reach your customers? We know that Google (and other browsers) use "robots" to track what is on websites and how they help people to search for what they are looking. Take this eCourse to help you figure out how to write for all of these differing priorities.
 

A Practical Approach to Website Analytics

Why are website analytics essential? We discuss the why, how to plan your analytics strategy, and some tools to help implement that strategy. We also define some often-used website analytics terms so you know more about what your analytics are being measured.
Search Engine Optimization Part 1: How to Train Googlebot and Grow Your Traffic
SEO Part 1 defines SEO, the goal of SEO strategy - to create more traffic to your website, resulting in the end goals of more conversions and more revenue. How do search engines work, and how can you improve your placement in search results? Take this eCourse to find out!
Search Engine Optimization Part 2: How to Train Googlebot and Grow Your Traffic
SEO Part 2 shows you how to take advantage of Off-page SEO (getting other sites to link to yours), coding your website for Googlebot, and things to know about the way your website communicates with search engines. The eCourse also covers local SEO and analyzing your rankings.
The Value of Implementing DEI in Your Small Business
How can Diversity, Equity, and Inclusion make a difference in your small business? This eCourse provides definitions of diversity, equity and inclusion, and then we look at stats on how implementing DEI can enhance a business' organizational performance, from decision making to customer relations and sales.
Igniting Your Small Business through DEI and Inclusive Leadership
Becoming an inclusive leader, as well as a good manager, can make a difference to your employees, customers, and your bottom line. Learn more about what inclusive leadership encompasses.
Managing Your Business by the Numbers
Whether your business is new-ish, established, or somewhere in between, tracking "your numbers" shows you where ups and downs occur consistently so you can plan for them. This eCourse offers financial management best practices and key performance indicators to consider using in your business.
Understanding Your Financial Statements - Four modules
Thank you to eCourse sponsor Live Oak Bank.
 1. Intro
What do your financial statements tell you about your business? How do they work together to give you a well-rounded picture of your business? This intro will get you started, and then take the eCourses Your Income Statement, Your Cash Flow Statement, and Your Balance Sheet.
 2. Your Income Statement
Your Income Statement is like your business's report card, giving you a measure of how well your business is doing and whether or not it is profitable.​ As a business owner, you should become familiar with what each line item on your Income Statement means, so that you have a better understanding of what the income statements produced by your financial software or prepared by your accountant are telling you about your business.
3. Your Cash Flow Statement
Business owners use cash flow statements to monitor the flow of cash in and out of the business.​ The cash flow statement summarizes the amount of cash and cash equivalents entering and leaving a business.​ Basically, it measures how well a company generates cash to pay its debt obligations and cover its operating expenses. ​
4. Your Balance Sheet
Your Balance Sheet shows you a snapshot of your assets (what your company owns) and liabilities (what your company owes). By gaining a better understanding of your balance sheet – along with your income statement and cash flow statement - you will be able to check the health of your business and make better strategic decisions going forward.​
Thank you to eCourse sponsor Live Oak Bank.
Funding a Business in NH - Starting a Business
A daunting part of starting a business is finding the funding you need. We walk you through the different types of funding. Discover the sources in New Hampshire that are open to start-ups. An example near the end shows how piecing together funds from various sources can help meet the goal you need to start your business.
Funding a Business in NH - Growing a Business
Learn about more types of funding that are open to businesses that are purchasing equipment, buildings, etc., have an innovation business, or are high-growth companies. If your business is adding a product or service line or is looking to expand, explore some ideas for funding sources in this eCourse.
Funding a Business in NH - Buying a Business
In this course, we look at a variety of types of funding that are available, and how they are best utilized to purchase a business. Whether you are buying into a franchise or purchasing an existing business, see what options might be available to you.
Thank you to the NH Office of International Commerce for STEP grant exporting eCourses support.
Expanding Your Business Through Exporting
Do you want to reach markets outside of the United States? Consider exporting your products and take this overview to see what is involved in the process, from strategy and marketing to complying with regulations and the safe delivery of your products abroad. This eCourse also provides a useful overview of the Harmonized System and how to identify your products.
Exporting 101 - Market Considerations
Global markets are all different. They have their own economies, political situations, and cultures. Businesses that export to global markets need to be cognizant of the nuances of each country they choose for exporting. This eCourse outlines considerations ranging from what colors to use in packaging, providing websites in the local language, to federal government restrictions.
Exporting 101 - Compliance Considerations
If your company is exporting products or services, you are responsible for making sure your business is completing all the forms and following all the state and federal regulations. We outline your responsibilities in this eCourse, and provide links to regulatory agencies.
Cybersecurity for Small Businesses
The course offers an overview of small business cybersecurity preparedness, including mitigating the risk of an attack, handling incidents, and handling remote worker concerns.
Human Resources:  The Employee Lifecycle for Small Businesses - Part 1
Join us for a 30,000 foot view of the entire HR lifecycle.  
In Part 1, walk with us through the entire Employee Lifecycle, beginning with hiring your first employee.  We'll talk through what you should do before finding that new employee, how to go about your search and assessment process, and how to get your paperwork in order when you decide on the person you'd like to hire. 
Human Resources:  The Employee Lifecycle for Small Businesses - Part 2
In Part 2, we'll give you a few tips on providing your employee with a great work experience, managing employees, and on the process for letting someone go.
How to Read Your Energy Bill
Thank you to energy efficiency sponsor Eversource.
If you have looked at your electric bill and been thwarted by the acronymns and costs per somethings, this eCourse can help. We walk you through a demo energy bill and explain line by line what items mean.  Find out ways you can effectively manage your energy usage - what items you can affect and which ones you can't. We can't say you'll look forward to receiving your energy bill, but at least you will understand it!
Building a Culture of Safety
Making safety a part of your business, rather than just a condition of doing business, will help keep your employees safe and healthy. Creating a culture of safety is the responsibility of all members of your team. We share some strategies for implementing a culture of safety.
Navigating Bankruptcy
When you need options, bankruptcy can offer freedom from collection calls and a fresh start. This eCourse will help you understand the different types of bankruptcy and what they each entail. It offers a straightforward headstart towards understanding which bankruptcy type might be most applicable to your situation, and what it will mean for your business and for you and your family.
Revenue Generation for Small Businesses
Sales and marketing are closely tied; marketing efforts generate leads while sales is the act of converting those leads into paying customers. In this course you will find ways to consider generating revenue for your business - over and above simply selling more.
Sales Forecasting
Predictions are often incorrect; projections can be adjusted. Look ahead to what you can expect your sales to be monthly over the course of a year, so that you can better manage your cash flow, inventory, and staff.