Client story - Nearview's thousand-foot view
---
Client Name: Stefan Claesson
Business Name: Nearview, LLC
Website: https://www.nearview.net/
Industry: Aerial drone environmental services & solutions
Location: Portsmouth, NH
SBDC Advisor: Ed MIles
Have you ever found yourself up against a problem you can't seem to find your way out of? You're at it for hours, days, maybe even weeks or longer, but then someone on the outside comes along and offers up the perfect solution in a matter of seconds. Turns out, you were just too close to the problem to see the solution. You might have gotten there eventually, but just imagine if you could have a thousand-foot view of a challenge. You could find the solution more quickly and easily than when you are standing right in the middle of it.
This is essentially what Nearview is doing for environmental science. As their tag line notes, "Change Your World View," Nearview is soaring to new heights to get a closer look at various ecosystems, using aerial drones to monitor the health of the environment. From upfront consulting to surveying, mapping analysis, monitoring and more, Nearview specializes in drones to help scientists, engineers, researchers, and environmental advocates study, understand, and respond to the world around us.
Stefan Claesson, Principal Scientist and Owner of Nearview states, "Simply, we love to make maps using aerial drone platforms and sensors that can provide actionable information to environmental engineers and scientists, resource managers, and decision-makers. I like to change people's perspective about the environment and the Earth and maps can provide a-ha moments."
Stefan's background is diverse, holding Bachelor's and Master's Degrees in Archaeology, a field in which he's been working for 25 years, specializing in Maritime Archaeology. But, as he considered his career and pursuing his PhD, Stefan recognized the lack of positions available in archaeology, but appreciated the interdisciplinary approach is has to offer. So, he opted to shift gears to Environmental Science (also interdisciplinary), looking at the history, social sciences, and natural sciences, and at remote sensing for monitoring environments and ecosystems.
When drones came on the scene in 2015, that immediately piqued Stefan's interest. "I thought, I really gotta get in on this on the ground floor," says Stefan. He recognized the potential of drones' capabilities, initially for archaeology. Drones could be used as a tool to map an archaeological site in minutes, when it would normally take days or even weeks! But, Stefan noticed how much more drones could do.  They could also look at ecosystem health and changing environments.
So, combining technology with environmental science, in 2015 Nearview was born and NH SBDC was called.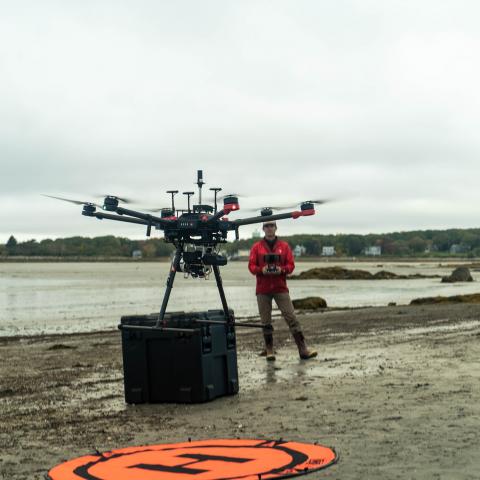 "SBDC was the starting point to get me on track," notes Stefan. "I have a science and liberal arts background, but not much in business administration and development. I needed guidance out of the gate on building and managing my business, and SBDC advisors provided feedback and direction that was otherwise unavailable to me."
As Stefan explains it, SBDC business advisor Ed Miles was even there to help "spitball ideas." Stefan knew he wanted his business to be focused on using drones, but what did that mean?  Would he be providing services to real estate agencies, which also appeared to be popular?  Stefan felt like he was just "throwing spaghetti at the wall."  Ed helped him focus on his wheelhouse. "That was one of the best pieces of advice. That guidance was key," says Stefan.
As Nearview has grown, Ed and the SBDC have continued to be there for Nearview.  Stefan expresses that the biggest challenge in his business is education, getting people to understand what he does and what the capabilities and possibilities are.  However, before he can educate, he must get in front of the right people.  "That's where Ed has been really helpful…network connections," says Stefan.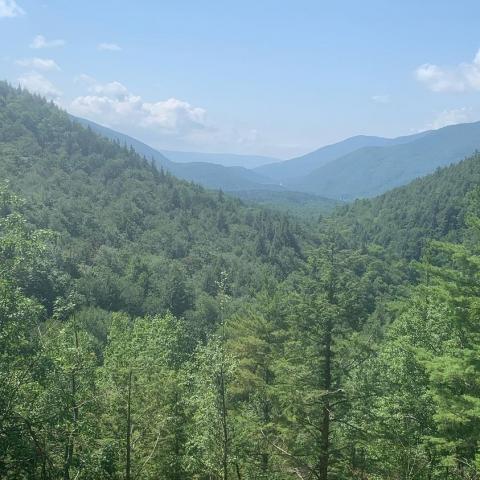 Then, in 2020 COVID appeared. While it did not cause too much of a headache for Nearview, there was a downturn in opportunities.  Stefan took advantage of the Paycheck Protection Plan. He credits the SBDC with being on the front line of getting PPP information out and interpreting it.  Stefan caught an SBDC webinar on how to apply, stating, "they made it simple."  He was especially impressed that during COVID, the SBDC proactively reached out to him to see how they could support him through that time.
And, as Stefan works to increase the capabilities of Nearview's services, he is currently in the throws of phase one of a three-phase process for an SBIR (Small Business Innovation Research) Grant, a U.S. government program, coordinated by the Small Business Administration and intended to help certain small businesses conduct research and development (R&D). The process is long and complex but has been made simpler for Stefan thanks to Ed connecting him to UNHInnovation's FOSTER program for SBIR proposal support.
"I'm very grateful to SBDC and UNH for helping me refine my proposal and get it to where it needs to be," says Stefan. Through the SBIR Grant, Stefan hopes to develop a prototype to continue using AI technology to map seaweed.
Stefan adds, "SBDC is an excellent resource, especially in the startup phase. They will help hone your marketing, and connect you with the right people, companies, and resources that can help you succeed."
With a pun fully intended, the sky's the limit for Nearview. They are well positioned to address issues in climate change and environmental monitoring, providing important information for making good decisions on how to react to climate change and build resilient communities.
Stefan concludes, "I hope I can continue to build tools that support the environment, to support my community, and other people's communities."