NH SBDC has always been proud to support entrepreneurs and small business owners from every walk of life.
We provide the same great services to anyone that walks through our doors, regardless of race, ethnicity, gender, sexual orientation, disability, socio-economic status, age, religious or political beliefs. But, like many organizations, we know we can do more to have our services be welcoming and inclusive to all.
According to 2020 U.S. Census data, People of Color who previously made up 10% of the state now represent 14% of the Granite State's population. The demographics of New Hampshire are changing, and SBDC wants to become more inclusive and a trusted resource for all NH entrepreneurs.
NH SBDC is taking action with its Inclusivity Project.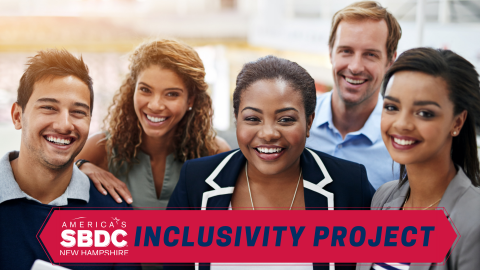 More direct support for small business owners of color through individualized business advising, education and resources to help them start or grow their businesses.

Creation of authentic partnerships with community leaders, groups, and organizations to enhance communication and amplify SBDC's outreach efforts.

Diversity, Equity, and Inclusivity (DEI) training for the NH SBDC team to help them understand cultural sensitivities, needs, and specific challenges of people of color businesses.
To develop a plan, NH SBDC worked with James McKim, president of the Manchester unit of the NAACP and managing partner of Organizational Ignition, LLC, to analyze NH SBDC's current state and help create a path to a more inclusive future. After a series of focus groups and additional research, McKim made recommendations in his report that center around marketing and knowledge acquisition. "A focus on those areas will increase the reputation of the NH SBDC among people of color, help the organization assist more diverse businesses, and make the state a better place to live for all people."
Liz Gray, SBDC state director, noted, "Our Inclusivity Project is in the early stages. Our approach is intentional and purposely collaborative because we know working together is the way we can all be more successful in reaching entrepreneurs of color. SBDC is fortunate to have received funding from the CARES Act and the NH Community Navigator program and therefore can put many of the Inclusivity Project recommendations into action."
Community Navigator Program
As a community-based partner in the NH Community Navigator program, SBDC will focus on more effectively offering services to business owners of color. Its work will focus in the southern NH region where there is a higher percentage of diverse communities.  Read this blog article for more info on SBDC's project. 
A Community Partner
A perfect example of a successful client and partner relationship is Indonesian Community Connect. The ICC, originally an SBDC client, has transitioned into one of our key Inclusivity Project partners. The ICC is a non-profit organization based in Somersworth that facilitates access to information resources for the Indonesian community, including their Business Partnership Program. They also help facilitate a mutual understanding among different cultures and values and promote the richness of the Indonesian cultural diversity.
"SBDC has assisted ICC in many ways. With regular meetings, NH SBDC has provided advising services towards every ICC project by evaluating the strengths and weaknesses of products, services, and events. Also, the ICC connects Indonesian aspiring business owners to the SBDC for guidance and resources. It's a win-win for both of us," says Raude Raychel, president of Indonesian Community Connect. Read more about ICC's story.
Multiple Languages
We are also translating some of our materials into multiple languages. Here's an example of our postcard in Spanish, for example. Other languages are coming, including Indonesian and Portuguese.
Indonesian Community Connect
Somersworth, NH
"NH SBDC has assisted ICC in many ways. With regular meetings, SBDC provides advising services towards every ICC project by evaluating the strengths and weaknesses of products, services, and events."
- Raude Raychel
Tropical Point Restaurant and Bar
Nashua, NH
"I was introduced to the NH SBDC by a neighboring restaurant. The SBDC helped my business not only financially but mentally. As a new business owner, I was extremely fortunate to have such support throughout my onboarding journey."
- Colleen Island Mateo
The Sassy Biscuit
Dover, NH
"The SBDC has been our cheerleader and our biggest support. There are so many obstacles to overcome and so much you don't know, the resources provided by the SBDC are essential to help you navigate them."
- Jilan Hall-Johnson