Guidance from SBDC Advisors
---
We are keeping you up to date on relief programs and other funding sources that become available! We are here to help.  If you have questions about any information here, do not hesitate to contact a business advisor by visiting the NH SBDC website. 
Here are a few updates we want to flag for you…

EIDL increases & additional purposes of funds
The deadline for Economic Injury Disaster Loans is December 31st!
If you are still awaiting your EIDL loan, make sure you are checking the status and contact your SBDC advisor if it's "stuck" in the process. Once 12/31/2021 has passed, the opportunity to receive an EIDL is gone. 
The maximum for EIDL is $2,000,000 for both new applicants and businesses that applied under the earlier cap, who are eligible to have their loans increased.
Small businesses and non-profits impacted by COVID-19 can use these low-interest loans for any normal operating expenses and working capital, including payroll, purchasing equipment, and paying debt. In addition, EIDL funds may  be used to prepay commercial debt and make payments on federal business debt.
The SBA has established more simplified affiliation requirements:  an affiliate is a business that you control or in which you have 50% or more ownership.
There is no prepayment penalty for these 30-year terms, 3.75% interest rate (2.75% for non-profits) loans. Loans will have a 24-month repayment deferment.
Apply today - do not wait until the  December 31st deadline! This is still a very viable source of funds, and SBA has increased capability to process loans and advances in a timely fashion to those that are eligible.
Federal R& D Credit
Does your company do research and development? Manufacturers, agricultural businesses and tech companies are the usual recipients of Federal R&D tax credits. 
The R&D Tax Credit is a federal benefit that provides companies tax "credit for increasing research activities" - business activities related to the development, design, or improvement of products, processes, formulas, or software. The credit was enacted in 1981 to stimulate innovation and encourage investment in development in the U.S. 
Make sure to check with your accountant if your business has activities that could be eligible. 
Employee Retention Tax Credit
Businesses can claim the Employee Retention Tax Credit (ERTC), also called the Employee Tax Credit (ETC), for 2020 and the first three quarters of 2021, and can apply through 2024.
The ETC is worth up to $20,000 per qualifying employee in 2020 and up to $28,000 per qualifying employee through 9/30/2021. ERTC is not available for the fourth quarter of 2021.
This can be a tricky exercise and we are advising clients to discuss this with their accountant or in-house financial person. It is a clear example of how using an accountant will more than pay for itself!
PPP Forgiveness Portal
Your small business could be eligible to submit your PPP forgiveness application directly into the SBA's portal to be reviewed by your lending institution.
Learn more about the process and steps you need to take to start the PPP loan forgiveness approval process. It could save you the back and forth between you and your loan officer, it allows you to find out instantly what additional information is needed, AND you get to see where your application is in the process.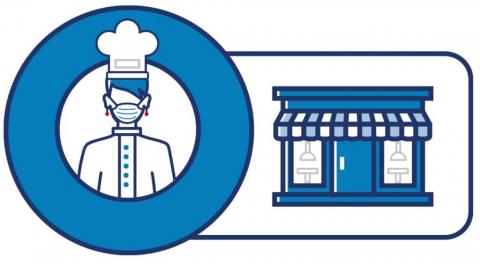 Restaurant Revitalization Fund Grant (RRFG)
This fund was closed on July 2nd. In New Hampshire, there were 1,009 applicants requesting $242 million. Of that, there were 418 businesses approved for a total of $91 million.  Congress allocated $28.6 billion in funds for grants to restaurants. However, nationally more than 3,000 operators whose grants were approved were later told that their funds were rescinded due to court rulings in lawsuits filed by those who claimed that the process was discriminatory. There is a proposal in Congress to add more money to the program.
---
Shuttered Venue Operators Grant (SVOG)
The Shuttered Venue Operators Grant (SVOG) is not accepting new applications. However, if you have received an SVOG - or are still in the queue awaiting a decision - SBA is sending invitations for supplemental grants at 50% of the original award amount, capped at a total of $10 million (initial and supplemental combined). 
Additional Funding Sources for Small Businesses
Good news - RDC partners have resources to deploy and are great partners to SBDC and small businesses.
Here is a list of the current financing through Regional Development Programs in New Hampshire:
Wentworth Economic Development Corporation (WEDCO)

 has two grant programs available.

Rural Microentrepeneur Assistance Program (RMAP) - enhanced business technical assistance for businesses in southern Carroll County and northern Strafford County. The grant is for up to $2,500 and requires a 15% cash match by the applicant.

Check out this link

for more information.

CARES Direct Grant Program - 

This is a grant for businesses that qualify as low-to-moderate (LMI) enterprises and start-ups, with 5 or fewer employees, to offset costs associated with preparing for, responding to, or recovering from COVID-19. Qualifying businesses may receive up to $2,500 of indirect grant funding to be applied toward equipment costs, operational expenses, and working capital. Eligible expenses include business costs, such as rent, staffing, equipment purchases, utilities, and PPE. Grants will be awarded on a first-come, first-served basis. Access the

intake form

and the

application

at these links.